Rookies, the freshest competitors, are often the most fierce and
eager in any competition.
In Mundaring recently at the Make Smoking History Targa West rally, rookies were involved for fun, the challenge, and for the new experience. A total of 19 rookie drivers and co-drivers entered the high-speed adrenaline-filled event, with many commenting on the good time they were having.
Make Smoking History Targa West is a four day annual tarmac rally,
consisting of 54 rally teams competing in four different categories.
This year there were 500 volunteers who helped out, plus support
from Mundaring Christian College. The school helped by providing
the start and pitstop for the Parkerville stage of the rally on Day 2,
whilst some of the students assisted by tagging gates, undertaking
media interviews and offering food and hospitality.
For some rookies, tarmac rallying at the four-day Make Smoking
History Targa West was their first involvement in any form of
motorsport.
Well, I wasn't into motorsport until three months ago, so I just

decided to go do it and have a crack, get a driver's license and

have a go

Nissan Silvia driver Kevin Bailey in car number
31.
A group of students from MCC were assigned the task to interview
the rookies and other competitors during the Parkerville Stage of
the rally held on Day 2.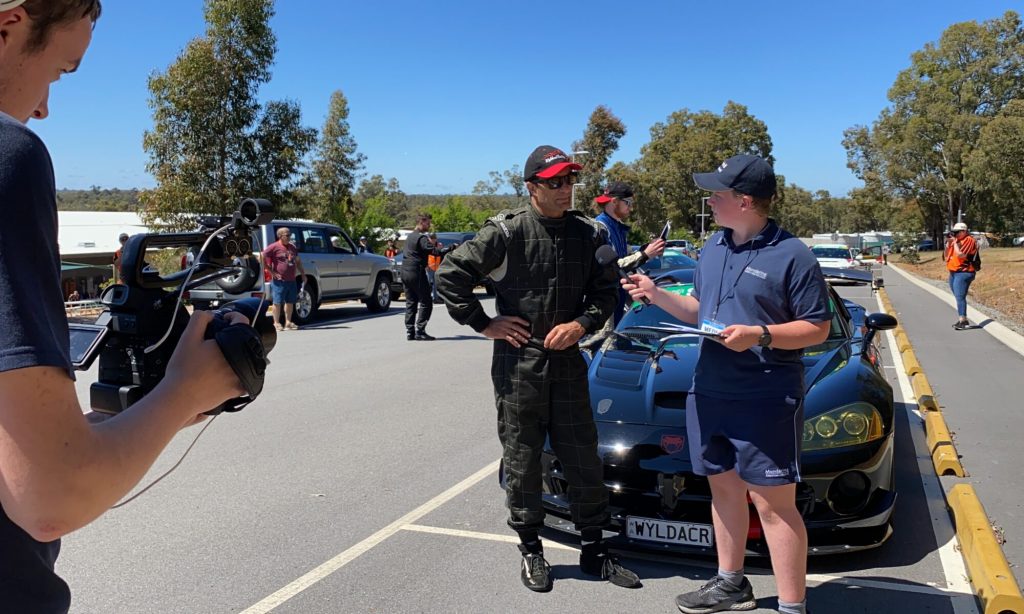 Bailey was one of a handful of drivers who shared their experience
on the first section with the students, saying his favourite stage was
a toss-up between Barbagallo and Ellenbrook on Day 1.
"Yeah, it was very good, Whiteman Park was a bit challenging, but
the rest has been great fun."
Bailey explained that Targa West was very exciting for the public,
seeing the people come out of their back yard to watch.
The City of Swan Mayor left his desk job for quite a different
experience this year, joining the competitive 1000km Rally, but
unfortunately for Bailey and his team they didn't make the top ten.
Veteran driver Simon Gunson and his 'virgin' co-driver (as he calls
him), Peter Morley, raced their way into first place in the Classic
category. With an astonishing lead of 4 minutes 43 seconds, they
were able to convincingly beat other experienced teams.
This year was Morley's first Make Smoking History Targa West rally,
although he has had previous experience with single seat racers.
Morley enlightened the students on his 'Cycle of Racing'.
"It starts with building a car, then racing it, breaking it, and fixing it
again."
Morley and Gunson didn't have any major problems at the time of
interviewing.
"No problems at all apart from a loose bolt on the exhaust, unlike
some other competitors."
As Morley explains, all the drivers experienced their fair share of
difficulties whether it be new motors, mechanical issues, or other
costly repairs.
Similar to Bailey, Morley also described the challenging first stage.
"Stage 1 was a bit tight and narrow," he says.
Gunson and Morley, in their a 1971 Capri Perana, blew it out of the
water, finishing faster than all the competitors in their category and
some in the other categories too. A win for a rookie co-driver or
driver is incredible, but for those who didn't place it's all about the
fun and the experience.
All the drivers, rookies or experienced, mentioned that they enjoy
the camaraderie and community support that comes with the rally.
Experienced driver Chris Caruso also gave students an insight into
how he and his team Wyldcat Racing enjoy the community and the
people.
As far as our team goes, the rally is all about high performance

cars, rallying, and racing, but the other aspect of it is people. It's all

about community and people

Chris Caruso
It's good camaraderie because there's a lot of involvement with

other competitors. As you see, everyone gets along really well and

it's good to enjoy the successes at the end of the day

SSC Lotus Driver Peter Rullo
Rullo also mentions he can't wait to be back next year. "Thanks to
Mundaring Christian College for the hospitality and I can't wait to be
back next year," says the Gooseberry Hill resident.
The 2018 Winner and his crew had a few moments on Day 1, but
apart from that they quite like the stage in Parkerville. We asked
Rullo if he was confident for a win, and this is what he had to say:

It's a long event so you can't put all your eggs in one basket. So

what I meant by that is to finish first, first, you must finish. So it's just

using your strengths and what you're good at and leveraging off

that.
Unfortunately Rullo, his days of mechanical troubles have returned
with his car succumbed to overheating issues when a fan belt broke
on Day 3 and he was out of contention.
Rookie or veteran, a podium contender or in it for the challenge, the
common thread between all competitors is that rallying is about
camaraderie, community, having a great time and driving as fast as
they can.