Whilst on an excursion to Kings Park, Year 3 and 4 students learned all about surviving in the outback.
While immersed in the tranquil surroundings of natural flora and fauna, students were taught what essentials to pack for an overnight stay in the wild. They were shown how to make a shelter with a simple tarp and blanket, how to apply first aid for a snake bite, and they even got to make tasty high energy milo balls.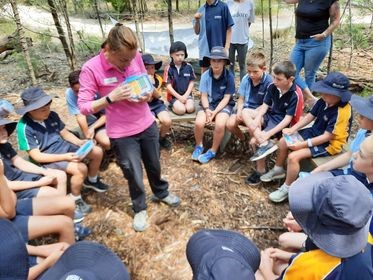 Students split into teams and were given just under an hour to build shelter and cook their food. There were no arguments over who would cook or who would build; they knew their strengths and collaborated well together. After the hard work was done, they enjoyed their spoils under the shade of their shelters.
In addition to learning survival skills, Year 3 and 4 students were able to explore the Naturescape playgrounds and wade through the creek. They enjoyed perfect weather and had so much fun outdoors.
Thank you to our amazing parents who were available to volunteer on the day.
Jasmyn Rullo (Year 4 Teacher)